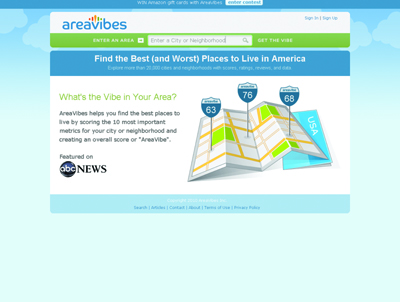 What it does:
AreaVibes is a new web site that provides a numerical ranking and score for cities and neighborhoods across America based on 10 important metrics. The goal is to help people find the best (and avoid the worst) places to live in or travel to.
How it beats the competition:
AreaVibes provides data and statistics from various sources in a well organized way, sorted by each category.
Site:
http://www.areavibes.com/
Twitter:
http://twitter.com/#/areavibes
Facebook:
http://www.facebook.com/pages/AreaVibes/111379685571601

AreaVibes - Ranking for Cities and Neighborhoods

,