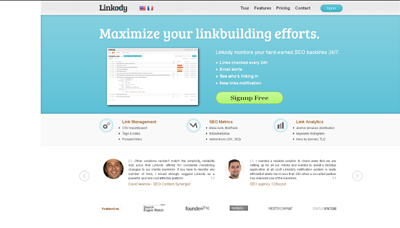 What it does:
Linkody is a link management and monitoring tool that checkes your backlinks every single day and sends you email report on their status.
SEO requires a lot of effort to acquire backlinks, don't loose them. Linkody monitors your hard-earned backlinks and sends you email alerts if they are removed or changed.
Linkody replaces spreadsheets and desktop applications. Import all your links directly from CSV or Excel and start managing your database of links from Linkody.
Linkody provides many metrics like page and domain authority and link analytics to optimize your SEO and link building activities.
How it beats the competition:
LInkody is the first 24/7 backlink monitoring service in the cloud.
Site:
http://www.linkody.com

Backlink Checker SEO Tool - Linkody

,