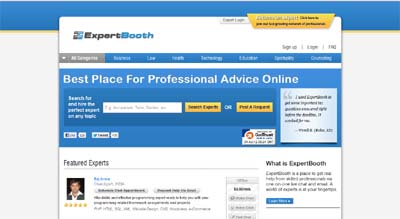 What it does:
ExpertBooth connects real experts from around the world with people seeking reliable advice they can trust. Talk to experts instantly via video chat, phone and more. It's fast, easy, and a lot less expensive than an in-person appointment.
How it beats the competition:
We are the only video chat professional consulting platform. We intend to make ExpertBooth the best place for online advice and create new revenue opportunities for experts.
Site:
http://www.expertbooth.com
Twitter:
twitter.com/expertbooth

Best Place For Professional Advice - ExpertBooth.com

,