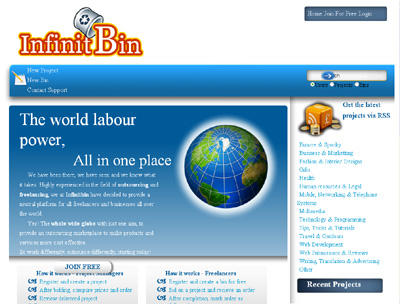 What it does:
Infinitbin.com is a platform that brings together freelancers/workers and employers, and provides an outsourcing marketplace to make products and services more cost effective.
Infinitbin provides jobs for freelancers in all categories. It helps to bring together available projects in one place where freelancers can reach to it without any cost.
How it beats the competition:
It has no minimum payout limit and no clearing period. You have direct access to all your funds immediately you earn it. It is available to everyonne from every part of the world.
It's FREE to join.
Infinitbin also has a referral program where you earn commisions, rating and bonus for every user that signs up under you
Site:
http://www.infinitbin.com
Twitter:
http://twitter.com/#!/infinitbin
Facebook:
http://www.facebook.com/infinitbin

Bringing Together Freelancers and Employers - Infinitbin.com

,