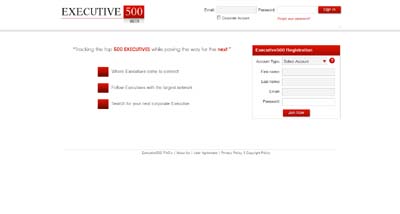 What it does:
Executive500 is a premier social networking platform designed exclusively for executives around the world. Here, executives are free to network with other industry leaders, share information and make their way onto the Executive500 list.
How it beats the competition:
Executive500 makes networking count by make the site exclusive and rewarding those who have the largest network. It is also easy to use and corporate accounts, where companies can make pages and post jobs, are free.
Site:
executive500.com
Twitter:
http://twitter.com/Executive_500
Facebook:
http://www.facebook.com/OfficialExecutive500

Exclusive Social Networking for Executives - Executive500.com,