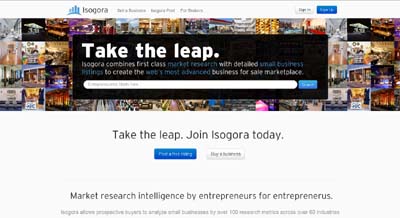 What it does:
Isogora is bringing the business-for-sale marketplace into the 21st century by combining first class market research with traditional business-for-sale listings. Isogora provides detailed market research profiles for over 60 different types of small businesses and demographic data for every single county in the United States
How it beats the competition:
We offer market research along with our business listings. This gives buyers a more informed look at the type of business they are considering purchasing.
Site:
http://www.isogora.com
Twitter:
https://twitter.com/#!/isogora
Facebook:
http://www.facebook.com/pages/Isogora/274838579273836

Business For Sale Marketplace - Isogora.com,