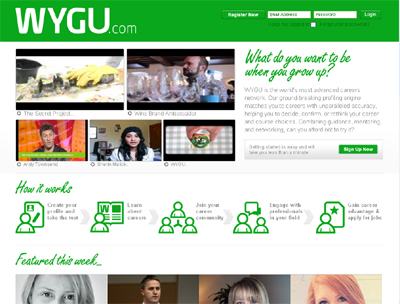 What it does:
WYGU brings people together to further their careers.
How it beats the competition:
WYGU is a niche social network formed around the idea of helping people find out what careers they are really going to be really passionate about, at a younger stage in life.  For the job seeker, our matching engine assesses candidates against over a million 'variables in flight' and returns actual job listings for the careers best suited for you.  The same psychometrics can be used to help high school students decide which college is right for them, or to help university freshmen figure out which courses they should enroll in.  For college sophomores and juniors it is a valuable tool for choosing a major, and for seniors it may determine wether to go on to graduate school or enter the workforce.  For professionals who love their jobs, WYGU gives you a chance to develop your mentoring skills while giving something back by providing advice and guidance to those who may be unsure of which path to take.  In fact, WYGU has trademarked and created its own virtual currency to reward mentors called PSR (Personal Social Responsibility).  Think of it as a Klout score for individually performed social good.
Site:
www.wygu.com
Twitter:
https://twitter.com/#!/wygutweets
Facebook:
http://www.facebook.com/WhenYouGrowUp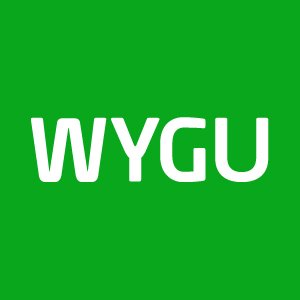 Career Development - WYGU

,