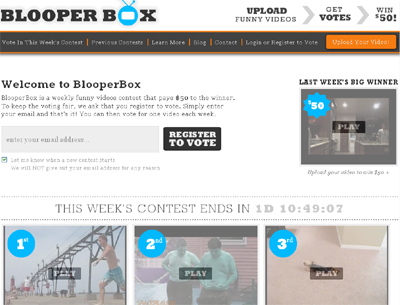 What it does:
Every week 5 funny home videos compete for votes. The video with the most votes at week end takes the cash. 5 more videos compete the following week.
How it beats the competition:
We are not another humor site hosting funny videos, we hand select our videos to air every week.
Site:
http://blooperbox.com
Twitter:
https://twitter.com/VoteBlooperBox
Facebook:
http://www.facebook.com/pages/BlooperBox/202537036436385

The Internet's Funniest Home Videos Contest - BlooperBox

,