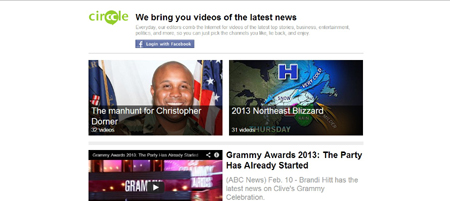 What it does:
We bring you news videos of the latest top stories, business, entertainment, politics, and more, from major news agencies, and organize them in a channel-story matrix for the balance of easy navigation and the depth of news coverage.
How it beats the competition:
We provide unique value by exclusively focusing on news videos from creditable sources, with a channel-story content matrix that further enhances user experience. Users can also log in to personalize their news feeds by channels.
Circcle's mobiel site provides a friendly interface for people to access content anytime anywhere.
Site:
www.circcle.com
Facebook:
Circcle Brings You the Latest News Videos from Sources You Can Trust - circcle.com

,