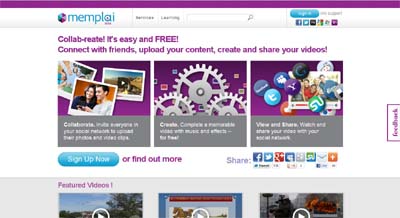 What it does:
At memplai.com, our goal is to provide our customers with an easy and useful environment to collaborate with your friends and family to create fun and exciting video clips. We aim to give you all the tools you need to create lasting memories in a medium that makes it easy to share with your social network.
In our site, you are in charge of your own production, we allow you to create your own virtual work space, which we call Video Projects. You can create projects, invite the people that you would like to participate, create as many videos as you want by using our online video editors. Finally we have made it easy for you to share your creations with your social network.
How it beats the competition:
Our videos can be watched on Blackberry, Adroid, IPhones and IPads. Unlike other online editing services ours is collaborative and allows you to invite others to the project. Best of all….we are Free!
Site:
http://memplai.com/
Twitter:
memplai.com
Facebook:
https://www.facebook.com/pages/Memplai/186883114765532

Collaborate, Create, View and Share - Memplai.com

,