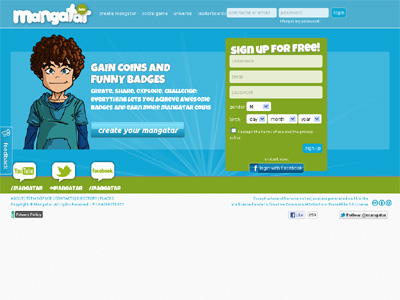 What it does:
Create amazing manga avatars with hundreds of elements and thousands of combinations!
Use them on Facebook, Twitter or Tumblr.
Put them on your blog, print them on a sticker or make a painting.
It's free!
Create, share, challenge, explore the mangatar universe: everything lets you achieve awesome badges.
How it beats the competition:
The avatar creator tool is the first one completely HTML5. No flash…only canvas and javascript and, then, iPad ready!
All the avatars are released under Creative Commons License "BY-SA". It means users can share, remix and make commercial use of their creations!
In addition to the basic elements, in the mangatar universe there are some special "places": thematic pages with customized elements about that theme!
Site:
www.mangatar.net
Twitter:
http://twitter.com/#!/mangatar
Facebook:
http://www.facebook.com/mangatar

Create Manga Avatar - Mangatar

,