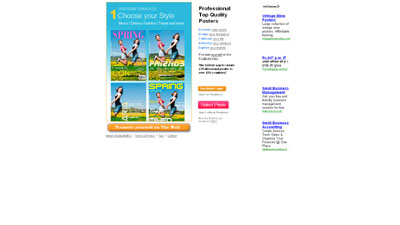 What it does:
Posterini is an interactive online app that allows you create professional top quality posters by combining
Design templates
Instagram-like filters
Posterini brings it all together in a very easy and fast way.
On top of that it doesn't require any registration. You may use it
straight away or if you like to share your posters with your facebook friends
you may login through facebook to use it there.
The message of posterini is simple. Nothing beats the power of image and word together. Posterini allows people to announce their news, thoughts, events or themselves with visual creativity, movie posters, magazine covers and other fun variations. People can even showcase their creations in a tropical paradise, a cinema, a shopping mall and other fun and unique locations to evaluate how their message feels in different contexts.
What makes Posterini unique is that you can create a great result in seconds by using the templates provided or you can use the customizing areas to fully personalize the entire product.
How it beats the competition:
Because it packs All in one, it brings together these 4 features in a very fast and easy way:
Design templates
100% customization controls
Instagram-like filters
Real time integration montages of your poster with real locations like a cinema or a real magazine.
Site:
http://www.posterini.com
Facebook:
http://www.facebook.com/makeposters
Create Professional Top Quality Posters - Posterini

,