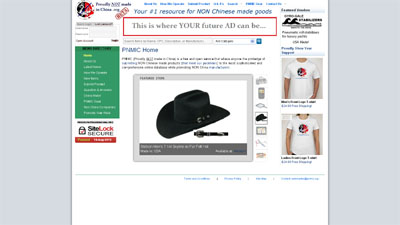 What it does:
PNMIC is an online directory dedicated to finding listing NON Chinese made products while promoting NON China manufacturers. There's A LOT of people out there who don't want to buy made in China, for whatever reason. They have a hard time finding what's NOT made there as the only way to find out is to flip the product over and look at the made in claim. Our website, PNMIC.org, is kind of like wikipedia meets IMDB, anybody can submit products to our database for display. But we have staff members who check the submissions first to ensure they meet our guidelines and are not fake. We only accept products that have an industry standard UPC barcode. This ensures that the product is mass manufactured and should be readily available for purchase in the US market. Another equally important goal is to promote NON China manufacturers. A Lot of people out there wish to purchase from home grown companies. At the same time, it is very difficult for a small manufacturer who can not meet the price and quantity demand of China manufacturers to have brand awareness. AT PNMIC, we strive to give a voice to the letter guy. We have prepared a 2 minute video about our company's operation found here: http://www.youtube.com/watch?v=TYyI_fCAki0
How it beats the competition:
There's nothing like it out there. We are surprised. Closet thing are websites that only Sell made in America, which limit consumer's options to very few items and varieties as the U.S. doesn't manufacture anything of importance that your typical everyday consumer would purchase. OR there are websites out there very amateurish and just link to products not made in China. AT PNMIC, we strive to be a comprehensive and sophisticated database that only accepts products that carry an industry standard UPC barcode. We want to make sure that all products listed on our website are mass manufactured and readily available for purchase. At the same time, we promote NON China manufacturers by allowing them a subdomain at PNMIC.org to showcase their products and raise their brand awareness. This is a major venture going full steam ahead and not some part time hobby site like most other competition.
Site:
http://www.pnmic.org

Proudly NOT Made in China.org - pnmic.org

,