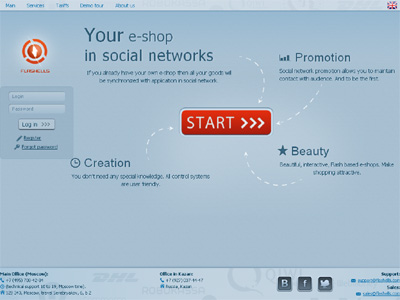 What it does:
Service is designed like SaaS (software as a service) for integration of already existing e-shops (or creation of e-shops from the ground up) in social networks like FaceBook, MySpace, etc. with future promotion in mind.
How it beats the competition:
Basic principles of Flashells:
●       Simplicity and availability (user friendly integration in social network within 3 clicks)
●       Beauty and dynamics (usage of modern Flash technology)
●       Target audience focus.
Site:
flashells.com
Twitter:
https://twitter.com/#!/Flashells
Facebook:
http://www.facebook.com/Flashells

Creating e-shops - Flashells.com

,