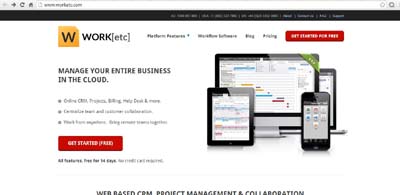 What it does:
WORKetc integrates CRM software, project management, billing, and help desk support into one fully integrated web based software.
– Replace 3+ separate applications with one app
– All of your business data, communications, and collaborations in one place
– Track your entire client relationships from start to finish with detailed client histories
– Group any list of items together for easier referencing
– Track custom data with custom fields
– Update leads, projects, tasks, and other items from your email with Gmail and Outlook connectors
How it beats the competition:
Using separate apps for CRM, project management, and billing leads to a mess of integration issues, decentralized communication, loads in monthly costs, and when everything is said and done, efficiency has barely increased.
WORKetc combats this by providing one complete system to manage your entire business, so you can focus on building relationships and growing your business, instead of dealing with administrative headaches.
Site:
http://www.worketc.com
Twitter:
http://www.twitter.com/WORKetc
Facebook:
https://www.facebook.com/WorKetc

CRM, Projects, and Billing in One - Worketc

,