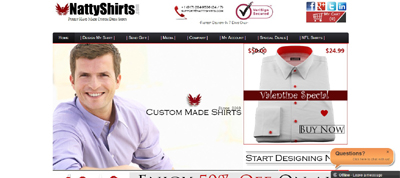 What it does:
Natty started in 2003 with the idea of attending those having physical differences making it difficult to wear regular of the rack clothes. In start it was only an offline project but having the sense of 21st century requirements it decided to start an online project as well.
How it beats the competition:
By Integrating 3D designing module which allows the customers to have the actual look and feel of the shirt without stitching it. Removing the hurdles of asking/ inquiring a salesman for help to purchase and providing up to dated designing options.
Site:
http://www.nattyshirts.com
Twitter:
http://www.twitter.com/NattyShirt
Facebook:
http://wwww.facebook.com/NattyShirts