What it does:
We at CVPlay have developed breakthrough Web Interview technology for recruiters and employers.
At CVPlay you can Job Search and Video Interview just about anybody across the Internet – completely for FREE!
1. You create your questionnaires.
2. Type-in the email adddresses of candidates you wish to interview.
3. Then sit back and watch your candidates answer questions.
You watch video recorded of candidates answering your questions – excellent for high volume postitions and pre-screening candidates to find the perfect match for your vacancies.
The entire service is 100% online and automated.  No software installation is required.
You can interview many more candidates and save vast sums of money when compared against telephone interviews and face-to-face interviews.
How it beats the competition:
We provide completely FREE tools.
You can also advertise your job vacancies on CVPlay for FREE.
We provide the entire job search and interviewing round-trip experience – we are the world's first provider to do this.
Site:
http://www.cvplay.com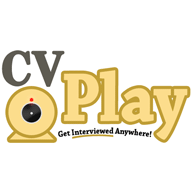 CVPlay.com - Get Interviewed Anywhere!

,