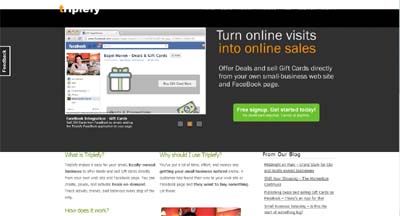 What it does:
Triplefy makes it easy for your small, locally-owned business to offer Deals and sell Gift cards directly from your own web site and FaceBook page.
How it beats the competition:
Beats the competition by giving you more control with the deals you offer.
You can create, pause, and activate Deals on-demand. Track activity, trends, and balances every step of the way.
Site:
http://triplefy.com
Twitter:
http://twitter.com/#/triplefy
Facebook:
http://www.facebook.com/triplefy

eGift Cards & Deals - Triplefy.com

,