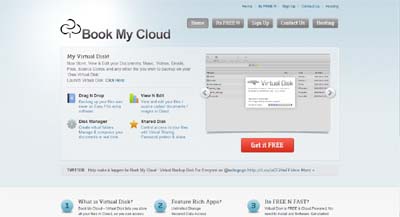 What it does:
The Cloud Based Backup Solution For Your Documents, Music, Videos, Emails, Files, Source Codes etc. It's free!
Its cloud computing…book your cloud now
How it beats the competition:
Unlimited Storage Space
Simple Drag & Drop
No Software Installation
Upload Any File
100% Secured Backup
Edit files online
Listen Music Online
Upload and view your videos online.
Site:
http://bookmycloud.com
Twitter:
http://twitter.com/BookMyCloud
Facebook:
www.facebook.com/pages/BookMyCloud
Free Cloud Backup - Book My Cloud

,