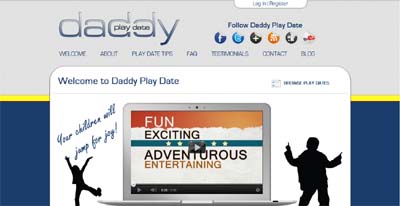 What it does:
We provide the resources fathers need to organize, create, attend and enjoy a play date with other fathers and their children. Often dads want to get out of the house with the kids but just don't have a clue where to go or what age appropriate events are available to attend with their children. If you are a father of only one child, you may want to expand your child's social skills by having them spend time with and interact with their peers, but you just don't know where to begin. We are here to help you change that. Daddy Play Date, LLC provides the information on various locations that would make for an interesting play date. We highlight child friendly events that may be happening in your area. Daddy Play Date, LLC also gives you a wide variety of places that are great for play dates. We even host and sponsor special play date events to show appreciation for our members and their kids.
How it beats the competition:
Most playgroups today cater to mothers and give little consideration to fathers, going as far as not even allowing them to participate in such social clubs.  At Daddy Play Date we realize that a child bonding with his/her father is equally as important. We are a source for fathers to find creative ways to spend quality time with their children.
Twitter:
http://twitter.com/#!/_daddyplaydate
Facebook:
http://www.facebook.com/daddyplaydate

Fathers Find Creative Ways to Spend Quality Time with their Children - DaddyPlayDate.com

,