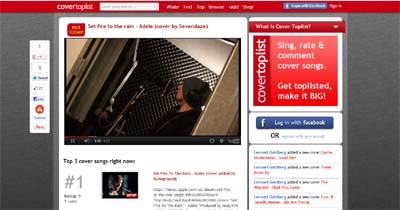 What it does:
Online cover song contest, directory and toplist of best cover songs based on user generated content.
How it beats the competition:
Users can add a limitless number of cover songs to their profile to compete with and rate other users' cover songs.
Competition results in good quality data about the best cover songs & performers.
This site excels a neat, simple & usable user interface.
Site:
http://covertoplist.com
Twitter:
https://twitter.com/#!/CoverToplist
Facebook:
https://www.facebook.com/CoverToplist

Cover Song Competition - CoverToplist.com

,