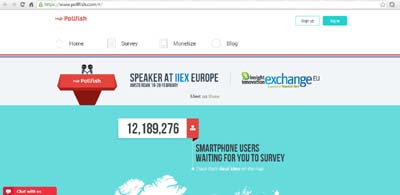 What it does:
Pollfish is a startup that aims to change the way mobile surveys are conducted! With Pollfish you can have global insights anywhere, anytime, real-time by targeting the elusive mobile user constantly on the go!
Pollfish is a service that delivers surveys through existing mobile apps. With Pollfish anyone can login to the website, create a survey, select audience from Pollfish distribution and relax while getting the results in real-time. Researchers pay only per completed survey!
Pollfish builds its distribution, following the successful mobile ads model, by partnering with mobile app developers who integrate Pollfish SDK into their apps in order to gain extra revenue. Pollfish surveys are rendered through mobile apps as an overlay in an appealing native mobile UI and deliver 10-20x more revenue to mobile app developers than classic ad platforms. Just think of native mobile ads, but with surveys! Mobile users respond to surveys in order to get into a draw for a prize.
At Pollfish we have a one-stop solution for anyone that has questions and needs some answers! In addition, the platform provides survey logic features during survey creation such as shuffling and branching, enabling this way the creation of quality surveys.
Pollfish in 5 months that has been live, managed to attract 116 apps on the platform and 2.559.698 mobile users! 30-40k new users join the platform every day!
Have a look at Pollfish promo video here:
http://www.youtube.com/watch?v=UtVcBQuVh6o
Have a look at Pollfish Android demo app and see how a survey is rendered through a mobile app:
https://play.google.com/store/apps/details?id=com.pollfish.demo
Finally, have a look at Pollfish monitor tool (beta) and see real-time on the map, mobile users opening Pollfish enabled apps! Every dropped pin on the map is a mobile user that can potentially answer a survey!
http://ws.pollfish.com/monitor
Thanks in advance for your time.
Kind Regards,
Andreas Vourkos
How it beats the competition:
Pollfish owns its distribution and can offer specific targeting options to researches. Its distribution is scalable since it follows the expandable and successful mobile ads model to deliver surveys to mobile users constantly on the go. Surveys are rendered through existing mobile apps in an appealing native mobile UI delivering also 10-20x times revenue to mobile app developers!
Site:
http://www.pollfish.com/
Twitter:
http://twitter.com/pollfishCom
Facebook:
http://www.facebook.com/pages/Pollfish/556947327651704

Global Insights Anywhere, Anytime, Real-time! - Pollfish

,