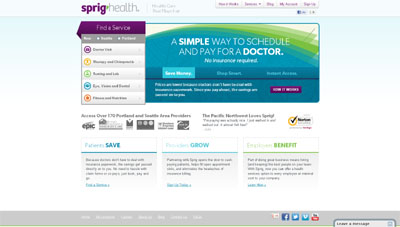 What it does:
Sprig Health lets you shop online for a healthcare provider with no waiting, no forms, no red tape. (You don't even need to have insurance!)
Just book, pay and save up to 30-50% on every visit.
How it beats the competition:
We meet the need of immediacy, convenience, price transparency and cost affordability when it comes to obtaining health care services.
Our competitions stay within the confines of a costly and confusing health insurance model.  They can't tell you how much money your doctor visit will be and they can't help you if you have issues getting health insurance.  We help people find a doctor they want to see and doctors make more money delivering care.
Site:
http://www.sprighealth.com
Twitter:
https://twitter.com/sprighealth
Facebook:
http://www.facebook.com/SprigHealth

Health Care That Plays Fair - Sprighealth.com

,