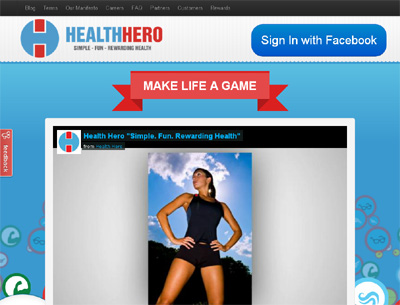 What it does:
Super Simple & Fun Fantasy Health Game that Rewards You with Real Rewards (Giftcards & Discounts) for Living Healthy.
How it beats the competition:
Health Hero records your work out from your social networks, simply keeps track of them, and rewards you with giftcards and super powers. Simple peer encouragement, fun, and relevant meaningful rewards worth earning.
Site:
http://gohealthhero.com/
Twitter:
https://twitter.com/#!/GoHealthHero
Facebook:
https://www.facebook.com/gohealthhero

Health Game that Rewards You - Health Hero

,