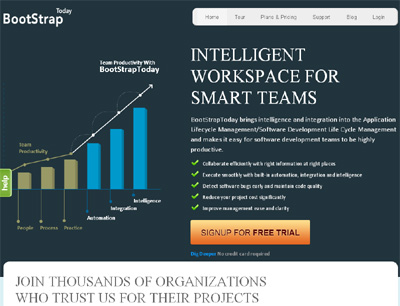 What it does:
BootStrapToday brings intelligence and integration into the Application Lifecycle Management/Software Development Life Cycle Management and makes it easy for software development teams to be highly productive.
Some of the benefits are as below:
Collaborate efficiently with right information at right places.
Execute smoothly with built-in automation, integration and intelligence.
Detect software bugs early and maintain code quality.
Reduce your project cost significantly.
Improve management ease and clarity.
How it beats the competition:
BootStrapToday has advantage in terms of built in Intelligence and automation.
Site:
http://bootstraptoday.com
Twitter:
http://twitter.com/#!/bootstraptoday
Facebook:
http://www.facebook.com/pages/BootstrapToday/370485029906

Intelligent Workspace for Smart Teams - BootStrapToday.com,