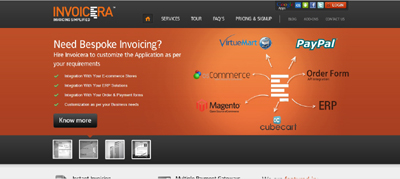 What it does:
Invoicera is a comprehensive online invoicing and time tracking software that enables you create and send professional looking invoices/estimates in a jiffy. The online invoicing application integrates a time tracking application and expense tracking application within.
Invoicera helps you send customized invoices, schedule invoices, track payments and expenses. It manages and stores your entire information, which can be accessed from anywhere and at anytime with the help of the Internet.
Invoicera allows its users to send recurring invoices as well as send estimates to customers and convert those into invoice format. Users are given a dashboard where they can view the recent activity, including various options such as, invoices sent/ received, client data, unpaid invoices, late fee feature, products/ services, price, and reports, and more.
How it beats the competition:
What's unique about Invoicera is that it allows payments from more than 20 Payment gateways. It also features a powerful Multi-currency and Multi-lingual options, which facilitates easy billing. Along with the same, tax computation feature is also offered.
Invoicera also offers a 25% commission on each successful referral that purchases an upgraded paid package.
Apart from the aforementioned, Invoicera allows its users to try all Paid Plans Free for 30 Days.
Site:
http://www.invoicera.com/
Twitter:
http://twitter.com/invoicera
Facebook:
https://www.facebook.com/Invoicera

Invoicing Simplified - Invoicera

,