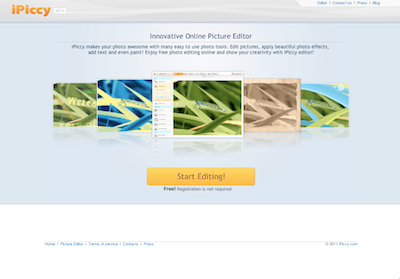 What it does:
iPiccy.com is a free, completely web-based photo editing and sharing application to give users everywhere the ability to quickly and easily edit, enhance and share their photos from any Internet browser.  iPiccy's innovative, web-based approach lets consumers avoid the problems associated with traditional, retail photo-editing software.  Now consumers can avoid the expensive price, thick manuals, upgrade hassles, platform compatibility issues, and lack of Web integration that comes with a boxed product.
How it beats the competition:
iPiccy is a next-generation, Web-based photo application that will change the way you think about photo-editing software.  iPiccy allows anyone to quickly and easily edit and share their photo memories from any Internet connection.
iPiccy is accessible to everyone with Internet access because it lives in the browser and not on your hard drive. That means everyone has access to photo-editing power tools through any browser.
Site:
http://ipiccy.com/

iPiccy - Fun Photo Editing Online

,