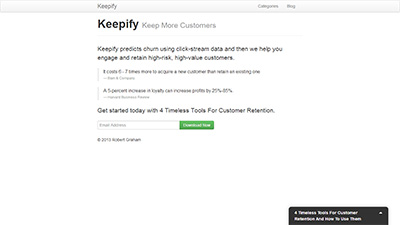 What it does:
Keepify helps you retain your most valuable customers. It predicts who might leave and helps you automate targeting of campaigns that keep your users around. Keepify is a measurable and predictable way to retain customers.
How it beats the competition:
Keepify is both measurable and split-testable. Keepify also uses advanced machine learning and churn prediction research to find the right users to target at the right time.
Site:
http://keepify.com
Twitter:
http://twitter.com/keepify
Facebook:
http://facebook.com/keepify
Keep More Customers - Keepify

,