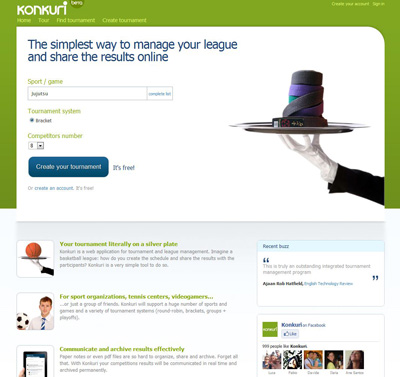 What it does:
Konkuri is a web application that lets you manage your tournament and publish the results online.
Our main customers are sport organizations, tennis centers, videogamers. For each tournament they organize, they need to create and publish the schedule, share the results, communicate with the participants, and so on.
Konkuri is a simple and effective solution to all these problems. Our customers can go to www.konkuri.com, choose the sport or game they want, select a tournament system (round-robin, brackets, playoffs) and create the tournament site with just 1 click. Then, they can refine the schedule, publish results and standings in real time, connect with players and teams, provide a stream of updates on the competition.
Konkuri makes your tournament easy to manage, more exciting and visible.
How it beats the competition:
Konkuri is super simple to use. You create the tournament site with just 1 click and the features you get will vary accordingly to the selected sport or game. For instance, in a tennis tournament you will have results composed of sets, in a soccer league you will have goal difference.
Konkuri has the best automatic schedule generator on the web. You can create a random schedule or seed it manually. You can drag and drop rounds, and refine the pairings as you want. The software will help you avoiding mistakes, like putting the same competitor twice in a round or creating twice the same match.
Konkuri is social. Participants can connect to the tournament and follow the stream updates with results, official communications, comments on matches.
Konkuri will archive your results permanently. Once a sport association has started using Konkuri, it is very likely that it will keep using it, because it creates value over time.
Site:
http://www.konkuri.com

 
Konkuri - The Simplest Way to Manage Your League and Share the Results Online

,