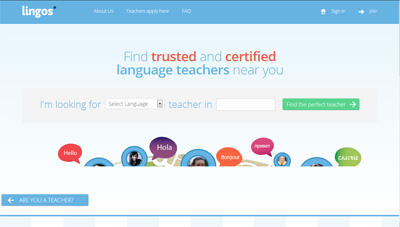 What it does:
Lingos is your personal and local online language learning community
Local: Lingos allows language learners, native speakers and teachers to easily find & connect with each other in any city around the world. For example, an intermediate Spanish speaker living in London wants to practice but doesn't have anyone to connect – using the Lingos platform, this person can input their post-code, area, or nearest intersection to find all local Spanish learners, speakers and teachers within that area. From here they can connect for a coffee or agree to meet for a 1:1 lesson.
Social: One of the disadvantages of learning a language without being immersed in the culture is the lack of cultural and social events that surround the learner. Lingos solves this by providing specific and structured events that will allow learners to come together, socialise and practice.
Personal: A fully personalised online language learning service delivered on the web, mobile & tablet apps & digital TVs. Lingos partners with the top global language schools to adapt their tested curriculum to an online platform that includes text, audio and videos. Creating a full circle learning environment that allows the learner to experience as much or as little as they desire around their specific language.
How it beats the competition:
Unlike our competitors, Lingos is local. It allows language learners to find other learners, speakers and teachers nearby.
Lingos also provides proven and tested world class teaching curriculums from established institutes. We digitize the top learning materials into video, audio and text, for a proven and tested learning experience.
Site:
http://lingos.co
Twitter:
http://twitter.com/lingosco
Facebook:
http://www.facebook.com/lingosco

Learn Together - Lingos

,