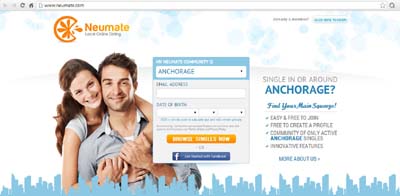 What it does:
Neumate is a pioneering online dating site that was built from the ground up to redefine expectations of what a good online dating company should be. The innovative features we have developed, such as the Neumate Token, and our commitment to member privacy set us apart from any other online dating sites. Throw in the advantage of local communities with only active singles in a completely ad-free environment and it is easy to see how efficient and pleasant the online dating experience can really be.
1.  The Neumate Token.  This alone will revolutionize online dating.  There's more:
2.  Distinct Local Communities
3.  Ad Free
4.  Stunning Design
5.  No Gimmicks
6.  No membership hierarchy
7.  Improved efficiency
8.  GTGs, Groups, Dates (features that combined w/ the local advantage introduce incredible value to singles)
How it beats the competition:
Neumate is the only dating site with a compelling reason for all singles to be members.
Site:
http://www.neumate.com
Facebook:
https://www.facebook.com/Neumate

Local Online Dating - Neumate

,