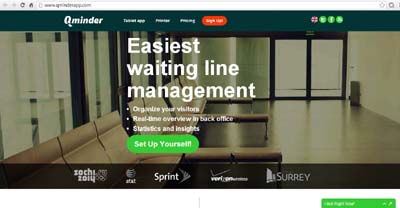 What it does:
What makes waiting lines so frustrating, is the anxiety, anticipation and fixed locations.
By offering more precise information, reminding a person of their turn and giving the option of roaming around freely, locations are directly improving the  customer satisfaction.
We have a web based solution to manage the waiting line and a free smartphone app for remote queuing.
How it beats the competition:
Easier to set up.
More affordable.
Flexible and designed for the visitor in mind.
We don't screw our clients with licenses either.
Site:
www.qminderapp.com
Twitter:
http://twitter.com/#!/Qminder
Facebook:
http://www.facebook.com/Qminder

We All Mind Waiting! - Qminder

,