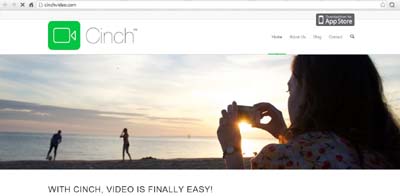 What it does:
Cinch Video re-imagines how easy it is to shoot, edit and share memories with video. It's the tool you need to create stunning footage, edit it into a beautiful movie, and share without even leaving your smartphone.
Effortlessly frame, film and edit in real time to make videos you'll be proud to share with friends and family. For the first time ever, you'll be able to produce stunning, fully edited movies you'll want to watch time and time again. From big moments to precious memories, no adventure is too small to be caught on video with Cinch.
How it beats the competition:
Cinch gives users a creative freedom they have never before experienced with their smartphone videos. By making it possible for users to shoot, edit and rearrange multiple clips of an unrestricted length all on their phone, they are rewarded with more control over their smartphone filming than any other app provides.
The inclusion of shot guides helps users learn how to take videos that look professional, and the ability to share videos to social networks straight from your phone eliminates the hassle of transferring smartphone videos to your computer before being able to share them. Cinch is the app users need to make their videos look remarkable.
App Store: https://itunes.apple.com/au/app/cinch-video/id698475816
Promo video: www.youtube.com/watch?v=wWgQdAq00VU
Site:
http://www.cinchvideo.com
Twitter:
http://www.twitter.com/cinchvideo
Facebook:
http://www.facebook.com/cinchvideo

Make Remarkable Video - Cinch Video

,