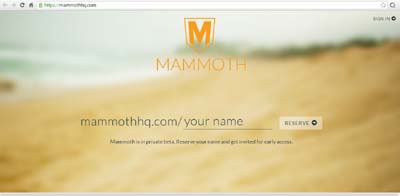 What it does:
Mammoth lets you create rich, collaborative boards and share them with anyone.
* Capture links, snippets, pictures, files and add your thoughts.
* Just drag and drop to add content.
* Leave messages or communicate instantly.
* Invite collaborators using just their email address.
* Get notifications and reminders in your browser.
Powerful browser extension that becomes part of your daily flow, for collaboration on any webpage.
Public boards with personal URLs to showcase stuff you like.
How it beats the competition:
* Powerful Mini-Mammoth.  So visiting Mammoth, the website is optional
* Don't break your flow and switch between apps while you do research
* Real time boards — consume and save content at the same time
* Dead simple to invite others to research and plan with you
* Real time updates and notifications
* Smart search auto-surfaces relevant content based on where you are online
Site:
http://mammothhq.com
Twitter:
https://twitter.com/mammothhq
Facebook:
https://facebook.com/mammothhq

Mammoth - Simplify Your Online Life,