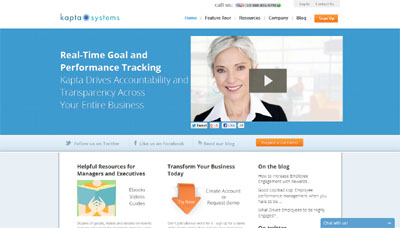 What it does:
Talent management software and employee performance management appraisal tool to motivate your team to align goals and achieve great results
How it beats the competition:
Employees set and manage their own tasks and goals and tie to their strategic objectives. Everyone lines up to get it done. Managers give employees a heat map showing goal progress and outlook. You drill down as needed.
Site:
http://www.kaptasystems.com
Twitter:
http://twitter.com/kapta
Facebook:
http://www.facebook.com/kaptasystems