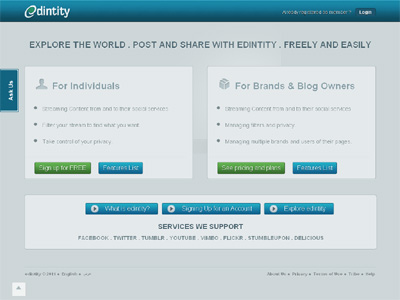 What it does:
One place to manage all of your social content from Facebook (profile & pages), Twitter, YouTube, Vimeo, Flickr, Delicious, Stumbleupon and Tumblr. You can post from edintity back to these services, manage privacy and find stuff easily as you have all of your social content in one place.
http://bit.ly/edintity-intro-E
How it beats the competition:
We broke down managing your social content into four parts: content flow, privacy, search and display. This focus approach and with an easy & simple to use user interface helps edintity to be unique in its offering. Also, we serve individuals and brands.
Site:
https://edintity.com/
Twitter:
https://twitter.com/edintity
Facebook:
https://www.facebook.com/edintity

Manage Your Social Content Freely & Easily - Edintity

,