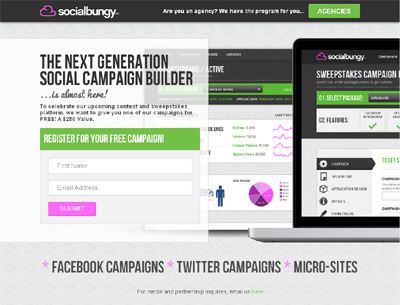 What it does:
SocialBungy Is The Next Generation Platform For Creating Social Contests and Sweepstakes on Facebook, Twitter, and Micro-Sites.
How it beats the competition:
Our DIY platform allows small businesses and large brands to create professional social campaigns without using a "cookie-cutter" format offered by our competitors eliminating the need of a programmer. We offer the most robust DIY campaign builder on the market.
Site:
www.socialbungy.com
Twitter:
http://twitter.com/#!/socialbungy
Facebook:
http://www.facebook.com/socialbungy

Next Generation Platform For Creating Social Contests - SocialBungy

,