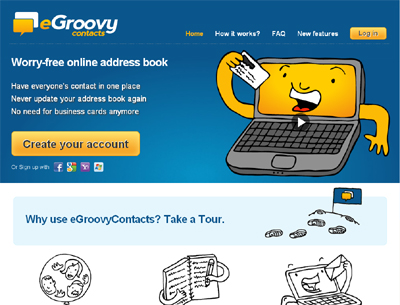 What it does:
EgroovyContacts.com is the online address book that updates automatically and stores all the contact details you need in one place. Due to the application's interactive features, you are always assured that you have the most up-to-date contact details when trying to contact the people you need. Users maintain total control over their contact data by building one card with both professional and private contact details, then selecting which data to share with whom. EgroovyContacts is the perfect replacement for your old address book and outdated business cards.
How it beats the competition:
Users can control each piece of data instead of dividing their contacts into groups. This gives the user full control over which contact has what data. Because it is not a CRM system it is easy to use and contains all the functionality needed for an address book. The application shows you immediately the status of your contacts including if they have updated any information recently or if you are still waiting for them to send you their data.
Site:
www.egroovycontacts.com

Online Address Book the Updates Automatically - eGroovyContacts.com

,