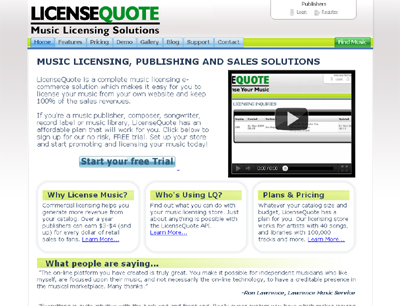 What it does:
LicenseQuote is a complete music licensing e-commerce solution which makes it easy for artists, composers, record labels and music libraries to license their music from their own websites and keep 100% of their sales revenues.
With LicenseQuote publishers can easily setup a white label Licensing Store that includes a catalog, song previews, instant price quotes (publisher controls pricing), advanced on-line negotiation mechanism, automated contract and invoice generation, billing, master files delivery, customer relations management, and more.
How it beats the competition:
Superior business model (keep 100%), professional tools like no others.
Site:
http://www.licensequote.com

Music Licensing Solutions - LicenseQuote.com

,