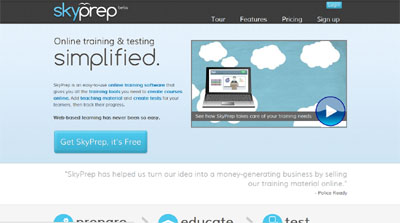 What it does:
SkyPrep is an easy-to-use online training software that gives you all the training tools you need to create courses online. Add teaching material and create tests for your learners, then track their progress through details reports and analytics.
How it beats the competition:
You can launch your training platform instantly through our website, with no credit cards, contracts or start-up costs.
Making courses with our platform is extremely simple.
You begin by creating a pool of your exams and training material. Then you can make an unlimited number of courses, by selecting your material and exams from your pool.
You can use your exams / material in as many courses as you want. Once you create your course, you can add your users and you are done.
Making courses only takes a few minutes!
Site:
http://skyprep.com/
Twitter:
http://twitter.com/skyprep
Facebook:
https://www.facebook.com/SkyPrep

Online Course Software - SkyPrep.com

,