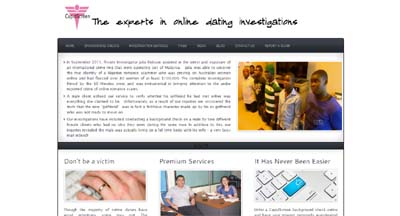 What it does:
Helping you protect yourself from online deception and scams.
Created by private investigator Julia Robson, CupidScreen is a background checking and investigation service specifically designed for those who date online.
How it beats the competition:
The safest way to protect yourself and those closest to you when dating online is a CupidScreen.
Operated by private investigators, we personalise every investigation.  Our investigations have included travelling to Malaysia to arrest an international crime ring of romance scammers.
Site:
http://www.cupidscreen.com
Twitter:
http://twitter.com/#!/cupidscreen
Facebook:
https://www.facebook.com/CupidScreen

Online Dating Background Checks - CupidScreen.com

,