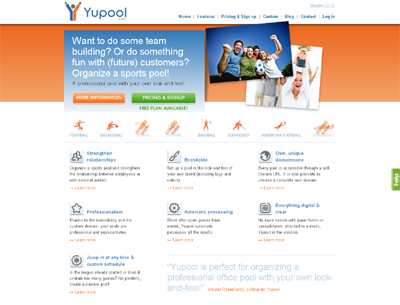 What it does:
Yupool is an online sportspool platform designed for companies and other organizations. By using Yupool they can organize a sports pool in a professional and brandable way. Sports / office pools organized with Yupool can be used for teambuilding, marketing, promotion or recruitment purposes.
How it beats the competition:
We offer a professional platform and several brandability features that no one else has. This is why Yupool is perfect for a professional environment.
Twitter:
http://www.twitter.com/#!/yupooltwit
Facebook:
http://www.facebook.com/yupool

Organize a Sports Pool - Yupool

,