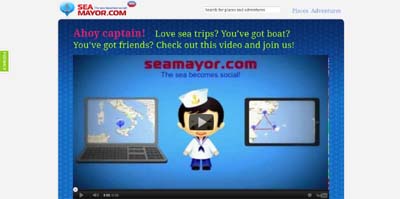 What it does:
Seamayor.com gives to all sea lovers a state-of-the-art service to plan your marine adventures, find interesting places, share it with your friends in social networks and invite them to join you. Seamayor.com makes the sea social!
How it beats the competition:
Seamayor.com helps to find a lot of cool places to visit with photos, contacts and descriptions, collects tips from other travelers helping you to make a right choice. With seamayor.com it is easy to add our personal POIs and mix them into a cool adventure. Trip info tool help you to build a useful trip guide. Just add your cruising speed, fuel consumption, choose your trip units and you'll get full journey info, including mileage, timing, and total trip fuel.
Site:
http://seamayor.com
Twitter:
https://twitter.com/#!/SEAMAYOR
Facebook:
http://www.facebook.com/seamayor

Plan Your Marine Adventures - Seamayor.com

,