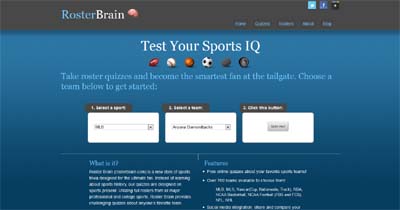 What it does:
Roster Brain quizzes sports fans about the rosters of their favorite teams. With incorporated player profiles, packed with details, the site aims to simultaneously help passionate fans learn about a roster while taking the monotony out of staring at a list of players.
How it beats the competition:
Sports trivia as it exists elsewhere focuses almost entirely on the past. Roster Brain bucks the trend by focusing it's quizzes entirely on present sports rosters…providing a fun learning environment for passionate fans.
Site:
http://rosterbrain.com
Twitter:
http://twitter.com/RosterBrain
Facebook:
http://facebook.com/RosterBrain

Sports Trivia and Roster Quizzes - RosterBrain.com

,