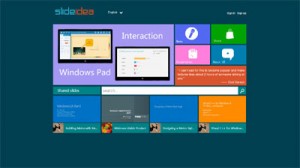 What it does:
SlideIdea is a new presentation tool especially designed for mobile devices. With SlideIdea you can create a presentation wherever you are and easily play it using our tools that help the speaker convey information seamlessly.
The unique features of SlideIdea are the sharing and interaction features that help speakers and audiences to communicate and get closer together through the use of mobile technology. The interaction features include a poll function where the audience can respond to questions through their own phone, pad or browser. There's also a Q&A message board where the audience can send questions or comments to communicate with the speaker smoothly.
With SlideIdea the speaker can submit slides to share which the audience easily can download to their own SlideIdea library in their Phone, PC or Pad and follow the presentation on their own device. The speaker can upload and share slides freely on SlideIdea.com website and through other social media.
SlideIdea is a tool that is suitable for business people, teachers, professors, conference speakers etc. who uses presentation tools daily but looking for new innovations to help them engage and interact with their audience using technology.
How it beats the competition:
SlideIdea has no direct competitors in the market; there are however indirect competitors such as PowerPoint, Keynote, Slideshare, Slideshark, Sliderocket, Docery and Prezi. They all provide some presentation or slide related service for either creation, sharing, viewing on mobile devices. SlideIdea face certain competitors from these products to our creation and playing features in our app, but none of these existing tools use cloud technology to help speakers to better communicate and interact with the audience with the help of mobile devices.
SlideIdea is also an add on service to many of the existing tools, for example PowerPoint and Keynote, because SlideIdea support many different formats like ppt/pdf/pptx/SLD/doc/keynote giving you the great opportunity to use SlideIdea interaction features to your already existing presentations. This adds value to already made presentations and give SlideIdea a even greater market opportunity to help those over 500 million people using PowerPoint today when they want to use their presentations on a mobile device. We strongly believe that the future is going to be all about mobile and cloud based technology and SlideIdea has great potential to become the new paradigms one and only presentation tool. SlideIdea knows how important interaction between people is for knowledge sharing and growth; therefore we boost this process to evolve through the use of mobile innovations.
Site:
www.slideidea.com
Twitter:
https://twitter.com/SlideIdea
Facebook:
http://www.facebook.com/SlideIdea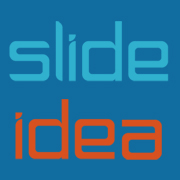 Presentations for Mobile Devices - SlideIdea

,