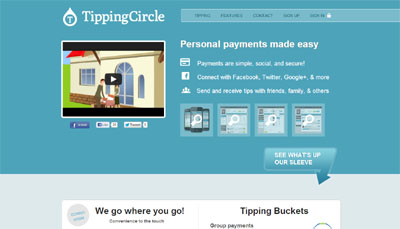 What it does:
With TippingCircle you can send, request, and share payments with friends at home or on the go.  You can setup group payments for events like birthdays or weddings and run social fundraisers.
You also get a social payment profile that expands your social network and makes life more convenient.
How it beats the competition:
The social payment profile and system's API opens up more opportunities and possibilities for making personal payments.  TippingCircle supports group payments, social fundraising, and offers incentives to share and use the app.
Site:
https://tippingcircle.com
Twitter:
http://twitter.com/tippingcircle
Facebook:
http://www.facebook.com/TippingCircle

Send, Request, and Share Payments - TippingCircle

,