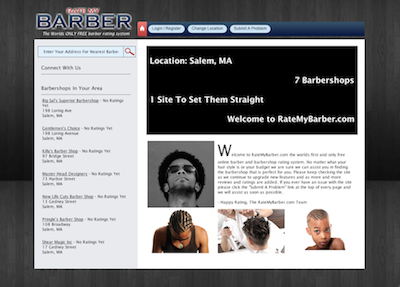 What it does:
For anyone who has ever experienced the horrors of a bad haircut – including cuts that are too short, botched up, or who have undergone the simple inconvenience of suffering from bad customer service that is common at any given barber shop across America – good news is here. Until now, barbers have never truly been held accountable for letting people leave with bad haircuts.  Unless the customers complain to friends or relatives, then the next bad haircut victim can just walk into their barber shop and leave unsatisfied.  And no one would be the wiser.
How it beats the competition:
Ratemybarber.com will launch the first-ever rating site for barbers. It has been described by some as one of the most resourceful tools in men's grooming since the invention of the razor.  Is this an exaggeration?  Hardly not. Ratemybarber.com founders have created this site especially for men, and some women, who are looking for the best barber to achieve the ultimate quest for a great haircut.
Ratemybarber.com works simply by asking users to rate the barber(s) they use or that they have used in the past.  Customers can share their haircut experiences with the world and read reviews from other patrons to determine whether the barbershop is a place to go or a place to avoid.  As the world's only free barber rating system known to man, Ratemybarber.com offers a multitude of ways to bring up the level of professionalism that is currently in place.  Technology is here and the soon-to-be released platform allows for both website and mobile apps for iPhone and Droid users; making it even more convenient to find a place to get a decent haircut.  This is especially helpful to tourists or people who have moved to a new city, or even long-time residents who are unhappy with the barbershop they have been using.
The benefits to barbershops is also favorable because those barbers who rise to the high "clipping standards" can expect increased traffic from users of Ratemybarber.com.  Barbers can essentially grow their businesses just by maintaining high feedback and continuing to achieve great ratings on their service.  It is a great way for even small barbershop owners to leverage marketing without having to advertise using costly traditional mediums; such as the Yellow Pages, TV, radio or newspapers that have become outdated sources for people searching for specific services.
Barbers can also advertise or sponsor widget badges on the Rate My Barber website for just a fraction of the cost of other marketing opportunities.  In fact, three or four customers pay for a year's worth of advertising on the site and now many small barbershop owners can even have a professional website for just $399.  This gives them even more of a chance to connect with customers and increase traffic using the modern marvel of the internet.
Founded by two Miami trendsetters, entrepreneurs and inventors; Windy Pierre and Andy Saintilus created Rate My Barber both out of frustration of a bad haircut and also out of clever resourcefulness as a way to connect customers and barbers.
Future plans of the two co-inventors include intent to launch Ratemybarber.com on Windows, Blackberry, and as Palm apps by May 25, 2011.  As another premium rating site born of highly inventive concepts, Rate My Barber is destined to make its mark on the world, one good snip at a time.
Site:
www.ratemybarber.com

RateMyBarber.com - Connects Customers to Great Barbers and Vice Versa,