What it does in their own words:
A new onsite behavioral targeting system released by Reedge, Inc., is giving small- and medium-sized businesses access to the same powerful website customization and optimization tools used by Amazon.com, eBay and other major players.
Reedge has entered the Beta trial period for its online software system, which allows website operators to dynamically customize text, images, navigation, offers and other elements of page content to increase conversion rates and maximize revenue per visit. It can also be used to add additional functionality to ad serving systems. The company is granting 100 royalty free licenses to allow businesses to use the Reedge system on their site to test the product and see what it can do to increase conversion.
"We created Reedge to make dynamic website customization simple and affordable so all businesses can benefit," said Dennis van der Heijden, CEO of Reedge. "Our system levels the playing field so smaller websites or blogs can get the kind of conversion rates that have only been possible on multi-million dollar sites with complex back-end systems."
The Reedge system is compatible with all content management and ad serving systems and does not require any changes to a site's existing architecture. To get the system started, website operators simply need to place a short bit of code into their site template and then all testing and customization can be done through the subscriber's account on Reedge.com.
By using the suite of tools within the Reedge system, website operators can serve customized content and design elements based on a visitor's user profile, site behavior, history and preferences. The system allows website operators to anticipate the needs of their visitors and smooth the path to a successful transaction, while increasing conversion rates.
For example, with the Reedge system, a website can offer discounted shipping for repeat customers or, if a user has visited the website three times without purchasing anything, they can be presented with a limited-time discount to encourage an immediate sale. Or, if a user repeatedly navigates to a specific section of the site, Reedge can present a direct link to that section as soon as the user gets to the site.
A recent case study was performed with SoftwareMatrix. The company tested the Reedge system on their website and was able to increase sales revenue 121% over during a six-month trial period. "The code was easy to add to our website and it started working for us almost immediately," said Jacques Vandersteeg, head of sales for SoftwareMatrix. "Reedge enables us to better target our visitors and help them find what they are looking for faster," he said.
With Reedge, website operators can easily perform A/B and multivariate tests, target users by geographic location, treat return visitors differently than new visitors, serve contextually relevant ads and manage what a user will see throughout the transaction process.
In addition to the onsite behavioral targeting software, Reedge provides its clients with professional consultation service to help understand user behavior and develop ways to increase transaction rates. Reedge consultants are assigned to each client to help them monitor website analytics and performance and make suggestions on ways to continuously improve conversions.
After the Beta period concludes and the system becomes available to the public, it will sell for under $100/month, with pricing scaled to match a website's visitor volume.
How it beats the competition:
The software as a service tool in for everyone to try, just sign up for beta or later when beta is over for a 15 day trial and you can give it a try on you blog, ecommerce portal or website. I have not seen that on large comparable companies. It seems to be all about consultancy hours and training for them. We more a hands-on tool: sign up, try if you like it start with a subscription for less then $100/usd. We will look over your shoulder when you use the tools and visit clients sites often to give suggestions (no extra charge). So we are building software as a service, but its more about making sure our clients do more conversion and revenue online then anything else.
Site: http://www.reedge.com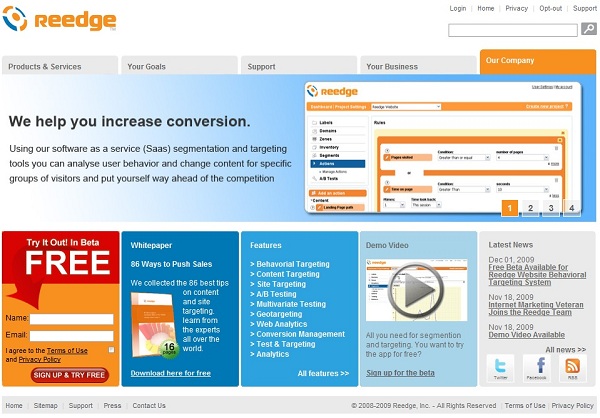 Reedge - Onsite Behavioral Targeting Software as a Service

,