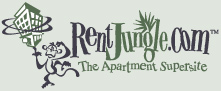 What it does:
When it comes to apartment hunting, it's a jungle out there. You need a good guide to avoid the snakes and track down the perfect den. Rentjungle.com works much like Google in that it scours the Internet and pulls together apartment listings from a variety of sites. It one ups Google by focusing solely on apartment searches and displaying results either on a simple, interactive map or as a listing with links to Google street views. So you can get an idea of what awaits outside your front window without having to physically visit the place.
Everything you've ever wanted to know about locating, leasing, moving and decorating your new place you'll also find for free on rentjungle.com. It's the ultimate apartment resource featuring both the most complete and user-friendly listing of vacancies on the web as well as articles on everything from down payments to self-adhesive shelf liners. (Unfortunately, you will have to install those yourself.) You can even use Rentjungle.com's new apartment comparison tool to see if you are paying too much for rent.
How it beats the competition:
It's the only site out there that lets users find their next place, check market trends, compare rent and get decorating tips all in the same place.
Site: http://www.rentjungle.com
Rent Jungle - The Apartment Supersite

,