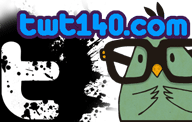 What it does:
Twitter is undoubtedly the best way to share and discover anything and everything. We know you love twitter and so do we. That's why we came up with these amazing applications so that we can have more fun on twitter. Find your twitter score, twitter match, auto tweet, find cool twitter buttons for your blog or website, increase your followers, share images, start poll and discussions, vacation tweets, reply notifier, find your twitter anniversary and many more applications and all  under one roof.
Twt140.com is the brainchild of a few twitter lovers and is dedicated to the world twitter community! These apps are a must for every twitterholic and have been applauded by many.
How it beats the competition:
We dont just add apps from third parties, we own them and manage them and always try to give the best.
Site: http://www.twt140.com
Twt140.com - Best Twitter resources

,